By: Kecia's Flavor Breakthrough!
I need a break from the meat dishes we have been having, yet it needs to be tasty and versatile enough to go on most anything… so, tonight I am thinking just over a pasta, but it could be used on pizza, even as a base for soup. I also thawed out too much of my home grown tomato sauce the other night!
Spicy Tomato Basil Marinara
Ingredients
2 tbsp olive oil
2 tbsp olive oil
1 onion julienned
1 clove garlic minced
2 tbsp red pepper paste or 1 tbsp crushed red pepper flakes
Salt and pepper to taste
½ cup fresh basil julienned
4 cups tomato sauce
2 cups diced tomatoes
Instructions
Heat olive oil in a deep skillet over medium heat. Add onion and sauté until slightly translucent, add garlic and continue to cook for an additional minute or so, to release flavor.
Add Pepper paste, salt and pepper.
Now pour in tomato sauce tomatoes and basil.
Cover and simmer for at least 30 minutes.
Serve over pasta, meats, on pizza or as a dip for appetizers.
https://keciasflavorbreakthrough.com/spicy-tomato-basil-marinara/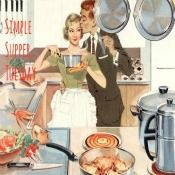 " />